Hi!  Thanks for checking out my photography.  I've been doing this for about 8 years.. I'm thankful to have won some awards and to have a lot of really amazing clients who I have become friends with and truly cherish.
I am most known for my pet photography.  It is a natural fit for me as I have loved animals for as long as I can remember.  I've had some professional training in dog behavior and I've also shown horses in both English and Wester disciplines since I was a kid.  I've even worked at the Louisville Zoo.  Animals respond to me and I have an easy time with them. They are beautiful souls and it is so rewarding to bring out their uniqueness with a photograph that can hang as fine art in their person's home. I think they deserve it.
Here I am with one of my dogs and one of my horses-  followed by some portraits of them which I have LARGE on my wall!!  Because they make me happy:)! (BTW- these were both taken by me… this should be an awesome advertisement of why you want someone BESIDES YOU to take the portrait of you and your pet!!)


I used to photograph only pets. But then I did my first senior shoot and I had such a blast that I had to keep going.  Now senior photography is a big part of my business.  I LOVE 17 year olds! It's the perfect age to photograph.  They are smart, funny, full of opinions and I love making them look amazing.  It's really the last time for parents to have a picture of them as their child.  And I don't take that responsibility lightly. I love bringing their personalities and interests into the photographs.  We have a really fun time.  Here are a few of the seniors I photographed last year..  during the shoot and then the finished product! ( Kennedy's Dad is a football coach- that's why we did the football theme on some of her pictures. I love doing different themes depending on their interests!)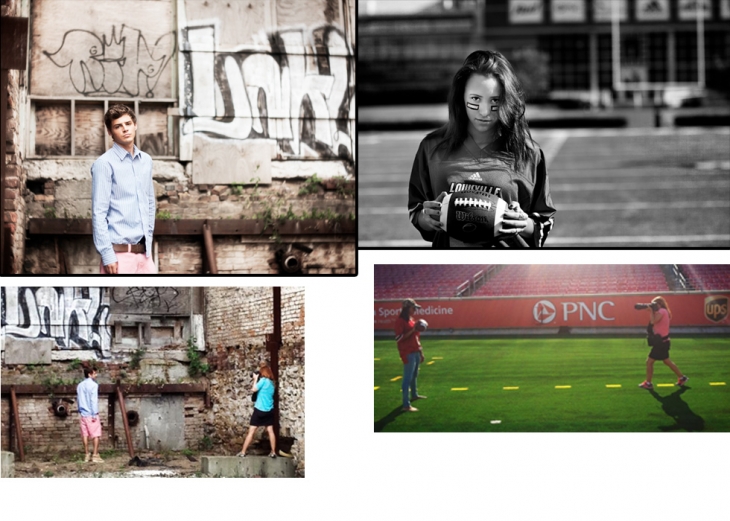 Oh – and yes.. I did used to be the "weather girl".  Since WHAS, I have worked at Churchill Downs and then Baptist Hospital East.  But you know what?  I think this is the best job I've ever had!
So thanks for stopping in to peruse this sight.  I decided to make it a personal blog as well as a professional one, so some of the posts are about my pets, my family, my travel, wildlife photography and some other musings..recipes… whatever I am in the mood to share

  I hope you enjoy it!!
xo Beth