Africa is my favorite place in the world.  The last time I was there, I climbed Mount Kilimanjaro and it was one of the best experiences of my life.    You can read about that trip on this blog under My Life!  But this time was also very special because I went with my son Jake, who is heading off to Hanover College in just a few short months. It was a rare and wonderful chance to spend time with him void of all internet and communication with the outside world!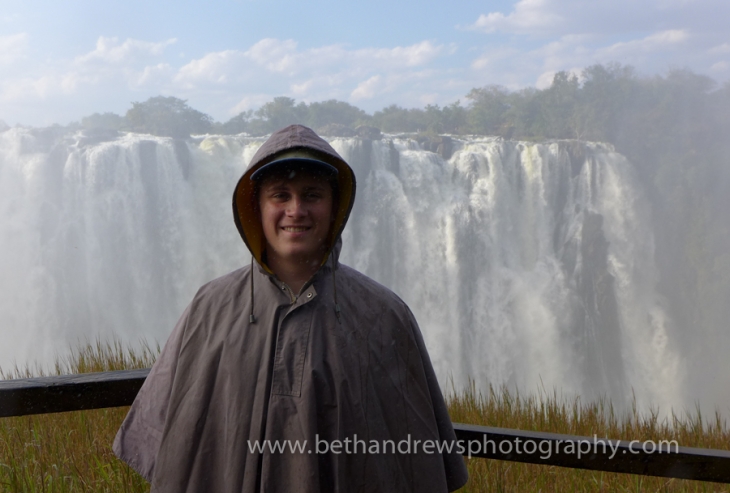 Our first stop was Victoria Falls- one of the seven natural wonders of the world!  While we were in Zambia we went on an elephant safari which was extremely cool.  Elephants are my favorite African animal and there are a million reasons why.  Without going into it too much, I am overwhelmed by their commitment to their immediate and extended families.  I am fascinated by their practice of ceremonial mournings of their dead, even from another herd.  I also find it so incredible that they truly never forget.  While on safari, there was one concession which had allowed hunting of elephants as recently as 2010 and those elephants were the only ones on our journey that scared us to death, as they would charge our vehicle and one bull elephant had gone so far as to repeatedly ram our guide's vehicle ( with him in it!) just a few weeks before our trip.  But I digress from the gentle and wonderful elephant we interacted with at Shearwater Elephant Safari.  These elephants were rescued as orphans and trained to interact and give elephant rides to guests.  It was SO COOL to be this close to my favorite wild animal.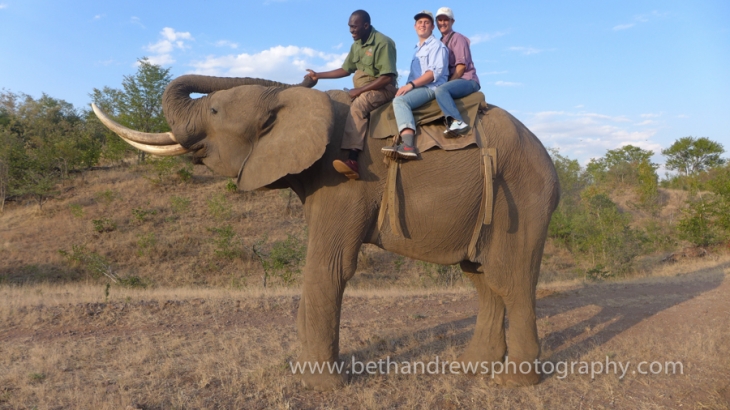 Also near Victoria Falls, we hiked into a National Park to see some wild rhinos!! We had to go with a park ranger who had a gun.  But we didn't get into any trouble!


Next, on to Namibia where we were fortunate enough to stay a few nights on a house boat in the Zambezi River called the Pride of Zambezi.  This was amazing because we could see the animals drinking from the river at close range!




Jake also got to fish for the vicious Tiger Fish- featured on one of his favorite TV shows " River Monsters" !
We then flew into Botswana to begin 10 days on Safari.  Here we stayed in wonderful tent camps and viewed wildlife every day in the safety of a safari vehicle!  It's odd, but the although the animals are completely wild and roaming on thousands of square miles, they are accustomed to the vehicles and see them as an object, not an animal.  So they are unthreatened and really fairly relaxed around the vehicles, as long as everyone stays still and doesn't cause any commotion or movement.
Our daily routine:
6 am : wake-up
6:30: porridge by the fire
7- 11:30 game drive
10 ish  : stop for coffee
12: lunch
1-3:30 rest
3:30 tea and cake
4-7 night game drive
5ish sundowner drinks
8 dinner and drinks by the fire
TOUGH LIFE!

Porridge by the fire
Ahhh and the wildlife!!!

I love being a photographer!!!

I could go on…  and on… but besides the incredible beauty of Africa, there are the experiences that are once in a lifetime.   We met such amazing people.  Africans are the kindest people in the world- and the camp staff and guides were some of my favorite people I've met anywhere.
And we met some very interesting travelers…  the most fun had to be this family from Canada.  The Daytons. I think there is some story about how they are connected in some strange way to Dayton, Ohio but I can't remember it.


And when will Jake ever get to sleep right next to the hippos and stay up all night because a hyena is resting inches away from our screen?  Or watch an elephant walk through camp, or find out a leopard crossed right in front of your tent overnight.  Priceless memories for certain!
Beautiful Africa…. Until we meet again!!